My Volkswagen Story
Do you have some time? The story of how I came to own my beautiful VW Cabrio is a bit long. They say that good things come to those who wait. I waited quite a bit of time and I got the best. Read my story and live my experience, with all its ups and downs…
The Safest Car in the World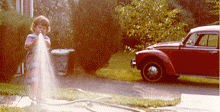 My aunt owned a VW when I was a child… I'm not sure what year it was… probably a 1972 or so. I thought it was the greatest car in the world, but I'm not sure why I ever thought this. But there's a great story in my family, which relates to my opinion of VWs and why I think they're the safest cars in the world…
I lived about 2 hours away from my aunt as a baby, and she used to come see me about twice a week. She also used to drive me to my grandparents' home, so I spent many hours in her car. Like most kids, I was also afraid of thunderstorms. And one not so fine day we were traveling in the bug. My aunt tried to calm me my explaining that the safest place to be during a storm was inside a car — however I misunderstood her and I thought she meant that the safest place to be was inside a VW Bug. Thus, I grew up thinking that VW's were the safest cars in the world.
---
Learning to Drive
Unlike most 16 year olds, I didn't care much for learning how to drive. It wasn't that I didn't like cars — far from it! I was just more environmentally (and financially) minded, and didn't see much need for a car.

Then came some incentive. On my way to work, one beautiful summer day, I walked past the used car dealership, and out front was a beautiful sunshine yellow 1992 Volkswagen Cabriolet. I was in love! And all of a sudden, I wished that I had a driver's license. That day, later on, I started my quest for the license. Two days later, we test drove the car. However, my grandfather wasn't convinced that I was responsible enough, since I hadn't yet had a car that I didn't care about, and so I didn't get the car. But I did get the license, so I was ready for the next time!
---
The Next Time (Err, not quite.)
The next time didn't come until my sophomore year of college. I'd decided to take a course in which I required transportation to access local schools… and so I needed a car. Despite there being plenty of used VWs on the market, I was broke. Thus I ended up with the extra family car — a used Hyundai.
The Hyundai nearly died the following summer, after it got me in a big 'ole accident (brake failure — lovely!). Actually, I almost died too, because the car offered absolutely no protection whatsoever. Unfortunately, my parents decided to repair the car, and I was once again stuck with it.
---
VW Dealerships, Here We Come!
Another school year quickly came and went, and when the summer came, I needed a car to get to work. But oddly enough, after one week of driving the Hyundai, all sorts of things stopped working. Finally I was stranded one day. And it was then that I told my mother that we were going to shop for a Volkswagen, so that I'd never have to worry about a car breaking down again!
So in June of 1996, my mom and I went off in search of my car. I knew what I wanted… I wanted that '92 yellow Cabriolet! But since the car had recently been redesigned, I knew that I'd either have to track down a used Cabriolet in excellent condition or buy a new Cabrio.
The closest dealer, YBH was closed when we went to visit, and so I turned to the Internet and found that another dealer, Gabe Staino, was also close to home. So there we went!
And there we met my first, best Volkswagen friend: VW sales consultant Joe Heim. I had come prepared, with information on the Cabrio printed out from VW's web site, a tape and a CD to test in the stereo, and a big barrette to hold my hair out of the way when driving with the top down. And so Joe, my mom, and I went crusing in a 1996 Cabrio.
That first drive took place on a pleasant summer evening. I later recalled to someone that the Nick Drake album "Pink Moon" would have been perfect for the drive. Deja vu?!
After the drive, my mom wanted to trade in her BMW for the Cabrio! But I wouldn't let her — after all, can't be outdone by mom! However car color was an issue: yellow was no longer an option, and the beautiful dark blue didn't have a grey top… thus it was white or red (mom didn't like any of the other options). Red was nice, but I wanted the lighter interior (and a lighter top), and so it was the white. Candy white.
But first there was a lot to be worked out. First of all, how was I going to pay for this luxury? I offered to not live on campus, in order to use my housing money for the down payment. Mom liked that! I also promised to work my butt off to make the monthly payments. Well, that was good too. But mom wanted to shop around a bit…
My mom tracked down Dominick Staino at Ardmore Volkswagen. Ardmore also had my car too, and they were willing to go cheaper. And so I had to wish Joe farewell, even though I didn't want to.
---
Kimmie Gets Her Car! (Take One)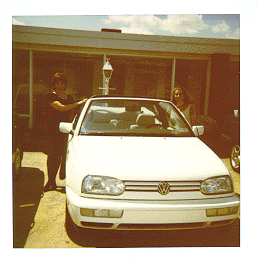 Finally! On a beautiful day in late June, I left work early and I got my car! Christened Meridian Afterburn (after the Chris Connelly song, the first song ever played on the stereo), nicknamed Poppy (for my grandfather, who always promised that I'd get a VW one day), we drove off the lot and into a whole new world — full of VWs!
Quick review of the specs… 1996 VW Golf Cabrio, Candy White, leather interior (not factory installed, so there was still some cloth on the sides), automatic (because not everyone in my family can drive stick), 6 CD changer (first loaded with Chris Connelly, Blur, Adam Ant, Duran Duran, and some other stuff). First tank of gas took me 252.6 miles, second tank took me 329.1 miles!
My first road trip was from my home in West Chester, PA to my sister's in Vineland, NJ. We then drove to Ocean City, NJ (counted 14 VWs along the road, 2 Cabriolets in Ocean City). In Ocean City, at Wawa, I met the nicest elderly gentleman who was driving a 1995 Golf, and we had a short conversation about how wonderful our cars were! My sister and I then visited our grandmother's sister, and I got to show off my car to her grandson (who has a bad reputation when it comes to caring for cars — don't worry, he's never had a VW!).
---
1500 Mile Road Trip!
Well, the car and I were having a grand old time. But before school started up, I wanted to really get it out on the road. Plus, I really wanted to go to Montreal, just because I hadn't been there in a long time. So the last week of August, a friend and I threw our stuff and a bunch of CDs in the car, and off we went.
Thanks goes out to Volkswagen Roadside Assistance… no, not because we had car troubles (silly!) but for providing us with a nifty road plan and maps! Even though we didn't take the route that was suggested, it was still the coolest little package ever!
Our trip ended up totaling almost exactly 1500 miles. We traveled from West Chester up the Northern Extention of the PA Turnpike, through New York on 81. After crossing the border into Canada, we took the 401 to Montreal. (I let my friend drive so that we could keep up with traffic, which was doing, on average, about 120 mph!) After 3 days in Montreal, we travelled to Kingston, where we met my friend Jen. From there we kept going, to Toronto! In one night in Toronto we blew the rest of our money at the restaurant atop the CN Tower (it was really quite worth it!). The following day we hit Niagara Falls, and then continued home, much the way we'd come.
---
Disaster Strikes
There's always drama in my life, and unfortunately, it couldn't leave me and my car be.
On September 24, 1996, I had just finished an exam at nearby Haverford College, and I was traveling westbound on Lancaster Avenue back to Bryn Mawr College, when all of a sudden, a big red Jaguar appeared out of nowhere and beat the living daylights out of my car.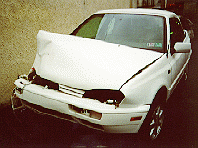 The accident occured during rush hour and there were plenty of witness available to state that the accident was nowhere near my fault. My car, which had actually been dragged a good distance by the other car, and only dislogged when the other car hit a pole (throwing me back into traffic), suffered huge amounts of damage. The airbags went off, and of course, I had my seatbelt on. My doors were locked, and my first impulse was to get the heck out of the car — I nearly just popped the top rather than unlock the doors! But I was up and out of my car quickly, with only a bruised hand (which had gotten in the way of the airbag). So, as I'd always thought, Volkswagens really are the safest cars in the world.
Sidenote: The car was deemed totalled! And the whole thing was the other person's fault. Another sidenote: recently saw an accident in which a tractor trailer sideswipped a Jetta–the Jetta broke through the railing and rolled down a hill, landing on the front windshield. The driver (sole occupant
of the car) said she felt dizzy, but was otherwise unhurt!
---
Kimmie Gets Her Car! (Take Two)
Well, I was truly devistated. I cried a lot. I mean, a whole lot. I'd waited my whole life for that car, and it was oh so quickly taken away from me! I called my old friend Joe to tell him the bad news. Of course the bad news for me meant good news for him… I'd be back to buy a car! (Oh yes. This time we were doing things my way!)
So in late October, one month after my accident, Joe called me and told me to stop by. Sitting there, waiting for me was a new Cabrio! My mom had been arranging things behind my back. I was completely surprised!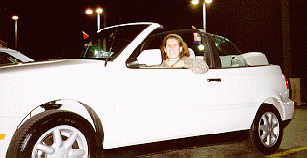 Being an observant individual, I quickly noticed a few differences. First, I had a glove compartment! The first Cabrio didn't have one and I'd gotten rather used to not having one, so this was a new luxury to me. My newer car was a late model '96, manufactured in Mexico, not Germany. The steering wheel was different (just like the other Mexican-made VWs), the leather interior was a little different too. The guys at Gabe Staino gave me that car with the whitest top I'd ever seen… the car was waxed and polished and it was beautiful in the moonlight!
So Joe and I went on test drive of my new Cabrio… the same route we'd traveled months before… thus setting everything in the world right.