My Other VWs
If you're like me, you've found that once you've owned a Volkswagen you can't switch. And perhaps you just keep accumulating them too! I intend on keeping my Cabrio forever, so in order to do that, I've had to take on some other VWs.
1993 Corrado SLC (March 2003 – February 2005)
After doing the VR6 swap in the Cabrio, I quickly came up with a list of things that needed tuning or tweaking. My mechanic recommended a complete engine rebuild, which could take a few weeks. I didn't have another car that I could drive for that length of time and I didn't want to rent a car, so I had to come up with another solution.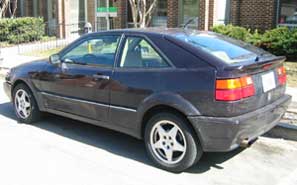 My mechanic quickly helped me out. He knew that I'd been on the hunt for a Corrado — the sweet little coupe that VW made available in the US for a few years in the early 90's — and he found one that I could afford.
I only intended to keep the car for a few months — maybe a year — but moving into the city gave me good reason to hang on to it. Between its dented door panel and busted stereo, it certainly wasn't a target for being stolen or getting broken in to! At least the sunroof, heater, and air conditioner work.
The stereo has been replaced but the door is still busted… and since I'm going to move again, maybe I can get rid of this car now. Maybe. It's such a fun car to drive, it's hard to give up.
2003 Passat W8 (January 2004 – April 2008)
The Corrado, in its current condition, isn't a great winter car. And while driving around in the snow and ice, back in January of 2004, the Corrado wasn't holding up so well. I just happened to be driving by a VW dealership, YBH, when the engine started making some horrible groaning sounds. And so I pulled in to the dealership to buy a new car.
I looked at the new Phaeton W12 and test drove the Phaeton V8. What an amazing engineering accomplishment! I was so impressed — as I figured I would be — that I actually seriously considered buying it. But with car payments that would equal my housing payments, I thought that might not be such a great idea. Maybe in a few years. *wink*
Instead I picked up a leftover 2003 model Passat W8 — the same one that I had considered buying a few months earlier, in fact! It's nice to have a brand new car again: one that doesn't have a tricky clutch or exhaust systems that don't pass emissions, or need to be jumped after sitting for a few days. This car won't be going anywhere for a while, I expect!
2008 Eos (April 2008 – June 2010)
During the time that I had the Passat, I took a job in California and commuted regularly. Out there, the Passat wasn't exactly practical — while I got decent gas mileage out of the W8, it was a much bigger car than I needed for the few miles I drove. (The Passat was taking a beating in parking lots with compact-only sized spaces.) And with all of the beautiful days, I was missing having a convertible!
So, for my birthday I drove by the local VW dealership and made a trade, ending up with a lovely red (in honor of Duran Duran's Red Carpet Massacre) manual transmission Eos. While it's a lovely hardtop convertible, probably my favorite feature is the sunroof! It's so large that it's practically like having the top down.
The Eos made a number of trips to Duran Duran concerts throughout 2008. During the course of the year, I moved back to Philadelphia and had both the Eos and the Cabrio together. Suddenly I became the two-convertible lady, in a place where I barely needed one car! So, although it was a great car, the Eos went bye-bye in 2010 after two years of fun. I'd definitely get another one, if I needed a daily driver.